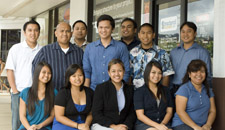 Who We Are
Structural Hawaii, Inc. is an architectural, structural, and civil engineering design and consultation firm based in Hawaii since 2004. Providing innovative solutions for our clients, our highly skilled team of designers and technical consultants ensure for an aesthetic and cost-efficiently built structure. Our team of customer service consultants, project managers, architectural designers, and engineers are working with you, to design your dream construction project, to make it a reality.

Our People
Jeoffrey S. Cudiamat, P.E.,
CHIEF EXECUTIVE OFFICER
Cheryl R. Cudiamat, MBA,
PRESIDENT
Vision

Structural Hawaii, Inc. will be recognized as the all-in-one firm providing architectural design and engineering services to produce quality construction documents in Hawaii and the continental United States.



Mission
· To provide quality construction documents and be at the top of mind in Hawaii as the firm of choice for value and efficiency.
· To support our clients with a quality team to service their design needs in a timely and efficient manner.
· To perform in an ethical and professional manner.
· To attain and retain a qualified staff of professionals and technicians.
· To market and educate of the importance of a professionally designed and engineered structure.